Everyone is familiar with Chemistry labs, Physics labs and Biology labs. Ever heard of a Composite Lab? Sounds very technical, doesn't it? A Composite Lab combines all the elements of Chemistry, Physics and Biology in one single room. And because of its very purpose, a composite lab must be extremely functional in design. Safety takes top priority in every school lab, and it is no different in a composite lab.
As for the lab furniture, it is a whole new story. Workbenches must be versatile in functionality because they have to serve three subjects at any given time. Their design demands them to be durable to withstand fire, chemicals and glassware. Provision of lab sinks, water, gas and electrical connections must be a part of the design.
Being a Leading school lab furniture manufacturer in chennai, we give you guidelines about setting up a Composite Lab in your school? Get a clear insight about the layout, storage requirements, student amenities and amount of workable space in a composite lab.
Guidelines From A School Lab Furniture Manufacturer in Chennai To Set Up A Composite Lab in Four Easy Steps
The laws of the Central Board of Secondary Education (CBSE) states that every school affiliated to the board must have a Composite Lab to conduct Science experiments for higher classes. Lab construction is categorized into four simple steps:
Assigning the room: The CBSE board is very clear in its guidelines for designing the composite lab. As per its by-laws, the room assigned for the lab should be at least 600 sq. ft. Schools must ascertain their student strength and pick the room that will comfortably accommodate all the students, giving them enough space to work and move around. A well-ventilated room is absolutely crucial for a Composite Lab. Air Conditioning is definitely not recommended, even if it is an added convenience.
Exclusive Range Of Classroom Furnitures From Inspace Furniture Solutions​
Designing the lab layout: This phase is the most crucial one which determines the success or failure of the lab. The following factors must be taken into consideration while designing the Composite Lab layout:
Location of the entrance, exit, windows, air vents, and pillars must be clearly determined with the expert guidance of architects or engineers.
Workstations should be allotted in accordance with the number of students who will be working at any given time.
Installation of a separate demonstration table for teachers.
Flawless layout of water, gas and electrical pipelines for each workstation.
Installation of overhead cabinets that are positioned at the right height.
Installation of flexible workstations like wet-lab workbench for Chemistry and Biology and dry lab workbench for Physics.
Selection of workbenches made of MDF or CRCA for extra durability.
Granite workbenches should be a minimum of 18mm thickness.
MDF worktops should be at least 25mm in thickness.
Mandatory wall-faced worktop or table to store high-risk chemicals and acids.
Installation of the lab amenities: Installation of the amenities in a composite lab requires the help of experts because it involves a labyrinth of pipes, wires and gas connections. Here's how it should be done:
Inlets and outlets of water pipelines are done in accordance with the layout of the lab sinks.
Gas pipelines must be in tandem to the position of the Bunsen burner points and the cylinder station.
Electrical wires must be installed inside plastic casings to avoid leakage or short circuits.
Installation of the lab apparatus:The CBSE board mentions that the composite lab must cater to the lab experiments of Secondary Sections. Going by those rules, here's a list of what a composite lab should have in terms of lab apparatus:
The Composite Lab package must have all the apparatus stated by the CBSE by-laws.
Demonstration lab models and educational charts are mandatory to gain a better understanding of topics.
Lab consumables like lab glassware, lab chemicals and other paraphernalia must be available in ample numbers.
All lab products and lab equipment must come with a warranty.
The elements of a sensible, functional layout that make a good composite lab
Whether you have only 600 sq. ft or more, your composite lab layout has to be worth the investment because it will be serving generations of students. A single stretch of the room can be compartmentalized into various areas that serve different functions. The lab furniture can also be chosen to support the functional purpose of the specially designated areas.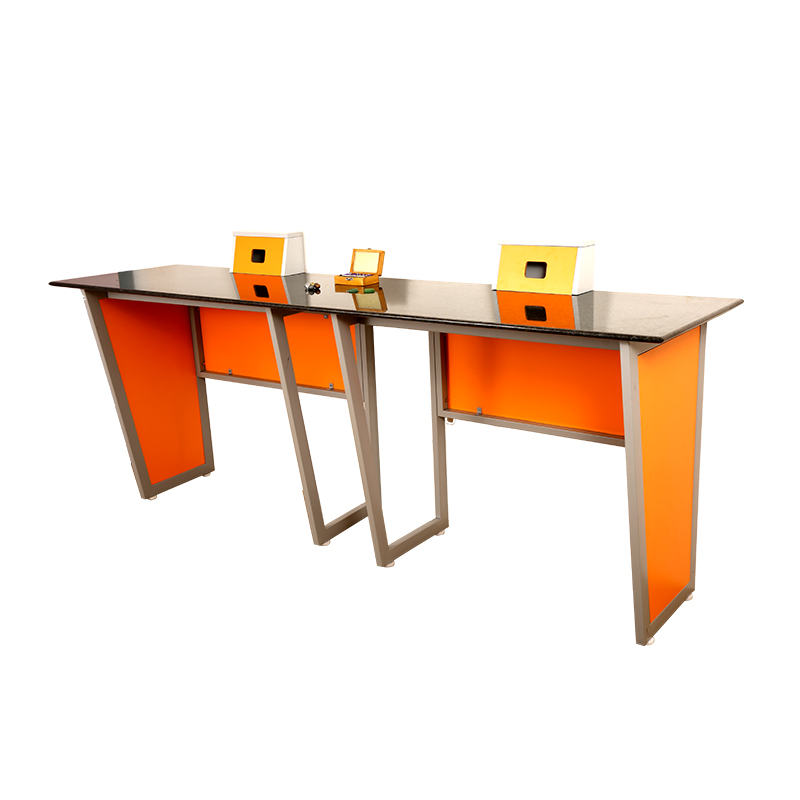 Pupil practical area:
This is the most important area in a Composite Lab. The practice area is where students put theory into practice. The layout of this area must be conducive for experiments and demonstrations. Keeping that in mind, the apt furniture components will include high tables and fitted workbenches that are installed in long double rows or horseshoe-shaped islands. The tables are also grouped around service pedestals for easy access to services like gas, water, electricity and drainage outlets. Composite lab workbenches are large and come with enclosed cabinets right under the benches. These storage cabinets are designed to be a mix of shelves, drawers and trays for optimum storage.
Other important aspects of the pupil practical area include:
Easily accessible eye-wash units.
High stools in plastic or wood.
Fume cupboards for the safe evacuation of toxic fumes.
Pupil theory area:
Large composite labs that have ample square footage can allot a special place for theory classes. The theory area consists of a blackboard, chairs, desks or foldable chairs with writing pads.
Teacher's demonstration area:
The teacher's demonstration area should be furnished with a proper workbench, a stool, and a blackboard. The bench should have access to water, gas and electricity. A fire extinguisher and a safety electricity switch should be within easy access of the teacher. Storage cabinets should be lockable.
Storage components for a composite lab:
Every composite lab must have ample storage solutions for all the lab equipment, books, records, charts and other paraphernalia. Standard lab designs call for compartmentalized storage units for student's belongings, science equipment and chemicals. Chemicals, especially, must be stored in labelled units that are under lock and key at all times.
Get High-quality Workbenches From Inspace - The Leading School Lab Furniture Manufacturer in Chennai
Inspace School Furniture is a well-known name in the furniture domain. We provide a wide range of composite lab workbenches that are superb in quality and incomparable in durability. Built to withstand heat, chemicals and corrosion our workbenches are available in various materials that are sourced from the best vendors.
Inspace is the top-most school lab furniture manufacturer in Chennai that has over thirty years of experience and service. To get a checklist of composite lab furniture, call us @ 9840861480 or check out our website https://www.inspaceschoolfurniture.com/.